I found this video http://news.bbc.co.uk/2/hi/south_asia/8299780.stm which made me start thinking, again, about volunteering. Just imagine how much there is out there in the world (or around where we live for that matter) that would be at least a tiny bit better if we gave it some of our time. I guess this young man has many many changed lives "on his conscience".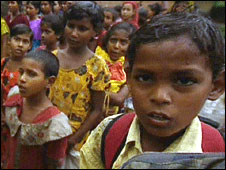 Of course you don't have to start your own school, or some other huge project of your own (well, this was actually a very small project from the beginning).
There are plenty of volunteering organizations which you just can join and be part of a movement that gives the world a nudge in a positive direction.
If you want to get an idea of what there is to choose from, here's a volunteering site that has loads of great information:www.oneworld365.org
Also, looking into this things really make you appreciate and being grateful for what you have, doesn't it? At least it's that way for me.
We ourselves feel that what we are doing is just a drop in the ocean. But the ocean would be less because of that missing drop.
Mother Teresa