We were talking to a friend the other day about long term traveling and the fact that money being the major obstacle for a lot of people. "Wouldn't it be great if it was possible to travel for free", I said? It would be a lot easier for us to inspire people to really go for their travel dream if money wasn't an obstacle.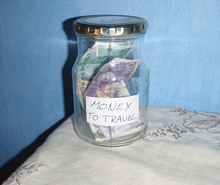 Our friend took it even one step longer and said: "Wouldn't it be nice if when you come back from your extended journey you would have more in your bank account than when you left?" This was really an interesting thought. Yes, why can't it be that way?
That would mean not only to travel for free but actually make money while traveling. And sure enough considering the idea we realized that there are of course people who do go on extended journeys and when they get back they are better off financially than when they left.
• First of all we got those who have a passive income of some kind that makes them money no matter where they are. That makes them more money than they actually need to travel. Unfortunately not everyone is that well off.
• But then it is also possible to create a passive income for the journey itself like renting out your home. If that gives you an income and you also travel low budget, you may have more in the bank at the end of the journey than at the beginning. At the very least it will be a contribution to your expenses.
• It is also of course possible to turn your actual traveling into a money making activity. You can write articles or take pictures to sell. You can negotiate an advance on a travel book deal.
• You can write a travel blog, or any other blog for that sake, that makes you money. Some guidelines on how to write a travel blog that makes you money can be found here.
• Find a sponsorship like Matt did in "Where the hell is Matt". Find out what's the special twist on your journey and then find someone who is willing to pay you for doing it. We mentioned before about Ewan McGregor and his friend Charlie Boorman who rode around the world on motorbikes. They got sponsors for that journey even though they probably had the money anyway.
• You can become a guide. If there is a journey you want to make there are probably others who would like to do the same but are afraid to do it on their own. We have a friend who has been taking groups of people to Hawaii for 3 weeks once every year for the last 20 years. Our daughter Aurora who is a great Jane Austen fan (see her blog at www.myaustendreamworld.com ) just met up with friends from the USA who were visiting England and the Jane Austen Festival in Bath. A journey arranged by another Jane Austen fan…
• Get a travel job and work along the road. Stop in places, find some seasonal jobs and get to know the area. John and Tyson have some great tips her on how that can be done.
Well these are just a few ideas that popped into our heads. We are sure you got some idea of your own which probably will suite you the best.
A cool thing to remember though is that this is a mind game. What you believe you will perceive, as some smart guy said. If you expect an extended journey to cost you lot of money it probably will. But if you put your attention on finding a way for your journey to actually make you money you will sooner or later come up with a solution.
And if it is not your choice to spend time working during your extended journey then that's just great to. All you have to do is create the money you need before you take off. You can check out our Creating Money page on some tips for that.