Here is a great little tip on how you can add some money to your travel budget. It might not be suitable for everyone, but then, what is…?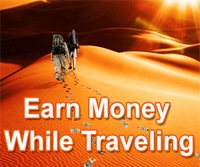 What we are talking about is, as the title suggests, how to make money with your travel blog. Having a travel blog can serve many purposes:
First of all it is a great way to, right on the spot, collect and save your memories in an organized way. To create a way to remember all the little great incidents that happens every day but run the risk of getting lost in the multitudes of impressions that you collect on an extended journey. And it is just perfect because you don't need to carry the memories around with you and have the risk of loosing them.
Next reason is maybe the obvious one. It is a super way to keep in contact with family and friends. Everyone back home can be a part of, and share your experience almost instantly. Having traveled before travel blogging was as common, we know that friends and family can be a bit overwhelmed when you want to share you adventures of an extended journey all in one go. Showing hundreds of pictures and telling travel stories for hours have put more than one of our victims to sleep…
If you do decide that blogging is something you will be doing on your journey anyway, why not make some money at the same time? For this purpose Nomadic Matt's little e-Book is a great start.
We are well aware of the fact that writing does not come to easy to everyone. But we don't think that is a reason for despair. Maybe a Vlog or a Video Blog is the solution for you? Posting beautiful, inspirational or funny video clips from your extended journey can be a great way to save your memories and share them with near and dear ones but also a great way of making money online.
One advantage, that is often forgotten, is that you can start travel blogging straight away. You do not have to wait until the big day for takeoff arrives. You can start now so when the take off day comes you may already be making money with your travel blog. That means that you can have an income when you are traveling around enjoying yourself. Isn't that cool?
There are lots and lots of travel blogs out there telling their story. But there are very few of these that tell the story of how people actually were able to go traveling in the first place. What did they have to do, go through and overcome in order be able to go on their journey? You can write about all the experiences you've got from preparing for the trip.
This is, by the way, what a lot of people want to know! What needs to be done in order to reach that goal of taking off on a long journey? Once at the Great Barrier Reef it is easy to figure out how the snorkeling is done. But when it comes to what you should do with a job, school, money, home, pets and relatives that is where you are left on your own.
That is the story we are trying to tell. And if you have something to add, let us know and we will pass it on to our readers or link to YOUR BLOG!
We just remembered another reason for starting your blog straight away.
To make a dream come true you have to commit to it. And what better way is there to commit than telling the whole wide world that you are going on this big trip. It will be much harder for you to draw back from that commitment once you have expressed it publicly. You will also find invaluable support among your readers and probably lay the foundation for your personal network that can be used for Network Travel. Read more about Network Travel here.