When you're planning for some extended travel, for taking time off and going out into the world, one of the things you'll want to look into is the way to travel – the actual "how to transport yourself".


How would you really like your traveling to be? Which way to travel would suite you and your situation?
It's easy just to suppose that when you go away for an extended time, you travel somewhere far away and you go by plane. It's convenient and it's the most common way.
As for us, we have made a lot of traveling by car and by campervan. The first years when we traveled as a family, we did most of our trips in Europe, or rather; we went from Sweden to Southern Spain for the winter. This trip could take everything from a week up to over two months, depending on how many friends we visited along the way and how many interesting things there were to do.
Traveling by campervan or a car with a trailer suited us very well at that time. It's very convenient with small kids. You can stop whenever you want to take a break and you always have your own food and stuff. Besides, I refused to fly for many years because I thought it was the most frightening thing I could do.
When we decided to do longer trips (and I had handled my fear of flying, read more about that hear), to places like the USA, Canada, New Zealand, Australia, and India for example, we chose to fly. Flying is the natural option for most people, especially when the destination is the goal.
We've also traveled quite a lot by train which we love. You just sit there and relax, read, talk to people, Aeat, sleep and watch the landscape passing by.
These are the most common ways to take yourself from one point to another. There are lots of other possibilities of course. We have friends who have cycled around Europe. They're from Vancouver Island, BC Canada, a family of six, and they chose to take their bikes for this six month European tour.
Some of our other friends, a Swedish family with five kids, chose another option. They put everything they needed (included the two youngest children) into a couple of bike trailers and then walked from Sweden to England and back. We assume that the journey really was their goal and we're certain they never suffered from jet lag.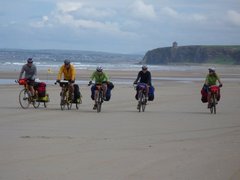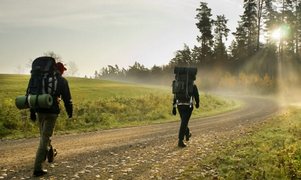 We have some other friends who are planning to travel around Europe by horse and carriage. They will then solve many problems in one go; what to do with their horses while away, where to sleep, how to make as little imprint on the environment as possible, to name some of them.
We also know of many people who have sailed around the world and we have fantasized about this ourselves many times. We haven't traveled a lot by boat though (except ferries) – YET!
Focusing on how to travel, on how to transport yourself, can be one way to start reflecting on what you'll want your dream trip to be like.

• So, what kind of person are you? Does putting on a backpack and just walk away sound like the most horrid nightmare you can imagine, or does it awaken a feeling of freedom and excitement within you?
• Could taking your bike be the perfect way for you to get in shape at the same time as you practice living your life at a slower pace?
• Does putting your family into a campervan and just start driving sound like a dream come true, or would this be one of the worst scenarios you could imagine?
Thinking and fantasizing about these things can help you get a clearer picture of what kind of person you are and what would be the perfect way for you to travel. For some more input, take a look at our How to travel pages