We went on a long hike yesterday. We didn't hike far away, just around the corner from where we live. We put on our hiking shoes, threw some food into our backpacks and took off. The weather was perfect, sunny but not too hot.

Part of the hike went through a forest which was protected and hadn't been cut during the last 300 years. There's a very special feeling walking in an "old" forest like that, solemn. It makes you quiet and reflective and also amazed over the wonders of nature. Over how well everything fits together. How the big, old fallen trees just lies there, transforming themselves into an abundance of new life. How nothing just stands or lies there by itself but is connected to the whole in some way.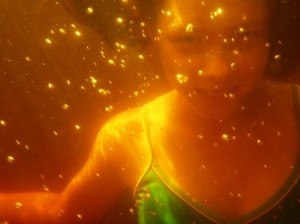 We went swimming in a small forest lake. It had this dark brown water, "coca cola water", as the kids call it. Swimming around there, with no buildings anywhere around, no cars, no roads, no sounds except the sounds of nature, it felt like it could have been any age: " let's see, where are we now, yes 2009, well what does it matter…"
We had a picnic up on a small hill overlooking another bigger lake than the one we went swimming in. Already we were starting to talk about going on a longer hike soon. Maybe for a couple of days? Maybe for a week?
We were two families, eight people, hiking together, and we all seemed to appreciate a lot this time away from "civilization" for a while. No stuff, no computers, no telephones (no connection in the old forest, of course). Just to practice "mindfulness" in the most natural way.
We came back after this one day experience a bit different persons from the ones who earlier that day set off. A bit more relaxed, happy and with a few new insights into things we had had time to reflect upon during our walk.
We realized again how much traveling can change you, how much it helps you to grow as a person and to see things more clearly. We were reminded of how profoundly life transformative long term travel can be. Just to leave things behind, not only for a day but maybe for three, six or nine months. Maybe even for a year or more. Here you can really talk about coming back as a different person.
This short hike really opened our eyes and let us see even more clearly how all our traveling has contributed to making us to the people we are today and taking us to the place we are at the moment.
So, to summarize: take some time off and go traveling! A day or a year, whatever you choose it will affect your life in many ways and take you to new places, physically and especially mentally.