We got this question a while back. We do get many questions and we love them so do keep them coming. Send them to Info@extendedworldtravel.com or post them in the comments below. It sure helps us to know what's on your mind and in what way we might be able to assist you.
Anyway, the whole question was:
"I was just curious as to how possible and realistic it would be to travel for 10 years or more with little initial savings, no education past high school, and no other source of income?"
The answer to that is very simple: it is absolutely possible! But, and this is important to remember, it all depends on any specific desires you may have regarding your travels and what you want them to be like.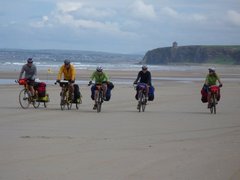 It's a very common misconception that long term traveling has to be expensive. Maybe it's because a lot of people see it as an extended one week holiday in high season, when you stay in hotels, eat in restaurants, hang out in bars every night and spend money on tourist attractions. Multiply that by 52 and you will of course get an astronomical figure for a one year journey. And if this is the way you want to travel you will need lots of money in the bank or a big steady income. For most long term travelers , this is not the way they do it though, usually because that are not their circumstances.
A lot of people who want to travel long term don't have the money for an extravagant journey. So they have to plan accordingly and find solutions that match their situation and their desires. Even without any money saved up it is still possible to go on a long journey.
The truth is, traveling long term can often be much cheaper than staying at home! We have met many and talked to many travelers who confirm this. For instance, when you're on the road, you don't have all the fixed costs that come with keeping a home and staying in one place. No rent, no home insurance, no car (if you are not traveling by car that is), no electric bills, no expenses for commuting , no day care costs…
All you got is basically the expenses for food, lodging and transportation. And there are also many things you can do to keep even these at a minimum. It just takes some creativity and a willingness to find solutions.
One idea is network travel which we have written about earlier here. If you choose this way you can basically eat and sleep for free. That would mean that the only expense that remains is the actual transport. Furthermore, you can always choose to ride a bike or walk. Maybe it won't take you around the world, although that is possible too, but will definitely keep the expenses close to zero

.
And this is possible to do for a year or longer. To have plenty of time absolutely makes it easier to be able to travel inexpensively. We have some friends who did just that. They used WWOOF for their network travel, and spent 5 years traveling around Europe (and this is not the cheapest part of the world). They just kept going and even became parents along the way, and then continued to be "WWOOFers" with their child.
Of course this may not be everyone's choice. But neither are first class tickets and 5 star hotels. You just have to find whatever suites you and your circumstances.
And yes, just to be clear: Education has nothing to do with this being possible or not…
Don't forget to write your own question in the comments