We're having a family here visiting at the moment, from Romania. Actually, they are Swedish but they live in here mostly during the summers and in Romania the other half of the year, in Transylvania more precisely (yes, the land of Dracula).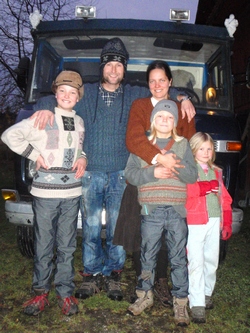 We wondered how they ended up in Romania and it turned out the parents (before they were married) first went there to help out at an orphanage and also to work with helping street children to get a better life. This lead to them coming back again and again and finally they moved there with their own family. This got us talking about how to travel and how we can create our own "travel themes". Oftentimes we don't just go traveling, we travel for a reason, with a purpose, because we want to pursue an interest or to learn something new.
You have probably heard by now about how we once traveled around New Zealand in the footsteps of the Lord of the Rings. For a long time LOTR had been a big part of our family's life. We had read the books and watched the films (and not only once, I'll tell you). The children had sewn their own cloaks which they walked around in. They made a play on the theme and even studied elfish! What more could they do with this passion? Visit the places for the movie shootings of course! So we flew to NZ and went to places like Matamata, where "Hobbiton" is situated and Mount Ruapehu, aka "Mount Doom". You couldn't see the ski lifts in the movie though, maybe Sauron didn't like skiing? To our big surprise, we found "Dunharrow" in the middle of Wellington! We even met a guy who worked at Weta workshops (who made all the props for the films) and who also acts as a body double for Aragorn. Got to hear some interesting inside stories there! Anyway, we had so much fun during this, in many ways, rather "touristy" trip.
As for other "theme trips" we have spent lots of time in places like Spain to learn Spanish. Although, the first time we went there, the kids actually learnt their first basic English (some parts of Spain are very international).
Another time, we made a long "pen pal visiting tour" around the USA and Canada. This whole trip originated in a letter Viktoria had received about 5 years earlier from a girl on Vancouver Island BC Canada, asking if she wanted to be her pen pal.
We also thought about some of our best friends who spend months and months traveling around the beaches of the world taking photos, since that's their passion. And another friend of ours, who spent 3 months in a Buddhist center in northern India, to learn more about that specific religion and about herself.
As for another example on how to travel with a special purpose, or with a special theme, we came to think about all the people we've heard about who go to Argentina to learn "real" Tango and maybe also some Spanish at the same time.
So, is there a theme you would like to give your trip? This isn't necessary of course, you can just travel and see what turns up, but for some people, or sometimes, having an overall theme for your trip can be of help as well as great fun.
• What are you or your family interested in or even passionate about?
• Are there people you'd like to visit somewhere in the world
• Is there anything you'd love to learn more about?
• Is there a cause which is close to your heart that you could contribute some of your time to?
• Maybe you're in desperate need to do an "in search for a new business idea" trip?
Since ideas become more real when you share them and talk about them you're very welcome to tell us about any travel themes that pops up in your head!
And remember, anything can be an excuse to travel!