"What do you do for a living?"
This is the most common question people ask us when we are traveling. But we've realized that they are not really interested in our jobs. What people do want to find out is how we get the time, the money and the opportunity to travel and live the life we do.
When we tell them, they usually say something like;
"Well, I'd love to travel and live like that too, BUT…"
And then they tell us why they can't do it.
We've realized, that when we (yes, we too) start dreaming about something we want to do, all kinds of different obstacles seem to turn up placing themselves between us and the dreams we are yearning for.
What are your BUT's?
What most people we meet say after "I'd love to travel, BUT" is usually something like:
- I have my job and my career to think about
- My children have to go to school
- My family and friends would definitely not approve (or think I'm crazy)
- I'm scared of catching some exotic disease
- I'm worried about crime and violence or becoming a victim of terrorism
There are ways to get past your roadblocks!
Truly there are and we are here to support you in this!

Most of us are caught up with our everyday issues and concerns.

This prevents us from dreaming about what we really want, let alone truly going after it.

We're often stuck in lots of "must's" and "should's," or our variety of fears.
Sometimes your roadblocks may seem
overwhelmingly big, but remember,
there are always ways to pass them!
For many people, just thinking about what we have to organize to do some extended traveling, makes us feel exhausted and overwhelmed.
Yet, there are actually people from all walks of life (yes, we really mean ALL walks of life) who DO travel the world. For as many people who allow their fears to stop them, there are also people who rise above their limitations and go after their dreams!
All Kind of Travelers
On our own journeys, we have met travelers with all kinds of occupations and backgrounds: nurses, teachers, plumbers, doctors, janitors, lawyers, taxi drivers, and shop assistants, to name a few.
We've met traveling families with babies, young children and with older teenagers. We've connected with single mothers, single fathers as well as families with five children. We've met unemployed travelers, travelers in wheelchairs and even travelers who've celebrated their 90th birthday.
• Being a traveler is not really about your income level, your age or family situation
• Being a traveler is more about acknowledging your dreams and allowing yourself to follow them
• If all these people we've met can do it, we promise you that you can do it, too!
In the book The 4-Hour work Week is an amazing story of a fellow traveler who was totally committed to get past his road blocks! Read the excerpt of the book here.
Of course, we all have our obstacles, our "yeah-but's" or roadblocks to overcome on our path to our dream destinations. But if you are deeply committed to having a life as an extended traveler, we promise you that there are always ways to get there – Always!
And we want to be there to help you discover how that can happen for you!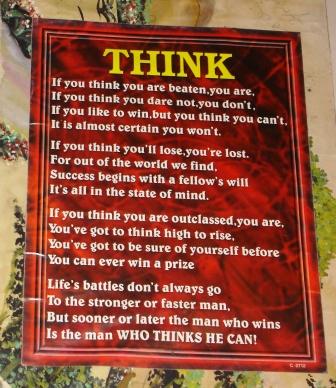 We found this on the wall in one of the homes
in a SOS Childrens Village in Kerala India
Find you're BUT…
We encourage you to take a few moments and take a deeper look at your roadblocks. What are your specific challenges that keep you at home in your old circumstances, instead of out there, traveling the world?
If you, after you've explored your yeah-buts, have found a reason that has been stopping you but was not mentioned in our list above, please use the contact page and send it to us.
Your awareness may be the very insight that gives an extended world travel dreamer the courage to go past his/her yeah-but's, just like you are!