Volunteering
Volunteering is about traveling and making a difference. It's about sharing who you are and what you have with those who are less fortunate.
It's about traveling the world and at the same time being part of making it a better place.
There's a multitude of ways that you can contribute by volunteering while you travel. Imagine for example that you could… – Help to build houses for underprivileged families in Kenya
- Monitor lions and other wild animals in South Africa
We have supported SOS Childrens Villages
in different ways for many years.
When we were in India, we took
the opportunity to go to one of them.
- Teach children to read in Vietnam
- Rehabilitate animals in the rainforest in Costa Rica
- Take care of orphans in Eastern Europe
- Teach English in Argentina
- Help with medical care in India
These are actually things that you could be doing, and places you could spend time in while traveling the world.
There are of course lots of other places and activities where your help as a volunteer would be much appreciated.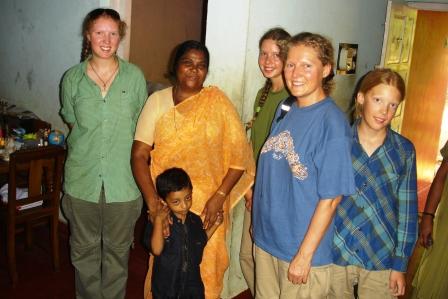 Proud mother to 9 orphan children at the Trichur Children's Village
What can I give?
If you have ever asked yourself questions like "What can I give?", rather than "What can I get?" – then this is definitely something you may want to consider.
Volunteering is about donating your time and energy, your knowledge and experience. We promise you that what you will get back will be so profound; it will change your life forever. And even if your aim is to give, you will probably get just as much back.
Traveling and making a difference by doing community work can be done in many different ways and in many different fields: medical care, reforestation, construction, office work, teaching, and computer programming, to name a few.
You can participate in programs for just a few weeks up to months or even years. You can volunteer and stay under more primitive conditions, as well as stay in refined hotels and help out in all kinds of ways during daytime.
There's a way and place to help for everybody.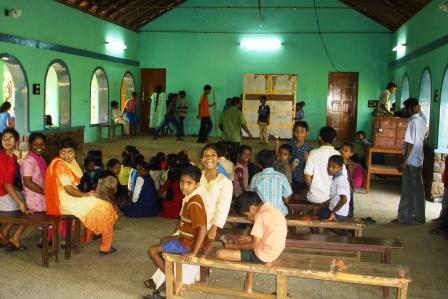 Children living in the SOS Childrens Village in Kerala India
You will be part of the solution…
When volunteering, you are part of a movement that support the good and is helping the world to move forward in positive directions. By volunteering you will:
-Contribute to make changes for the better
-Learn all kinds of new skills
-Get opportunities to experience new and local communities
-Contribute to your host and host community
-Gather unique travel experiences
-Make lots of new friends
-Become re-energized and get a new perspective
-Get credentials that you can put on your job or student resume
You will realize it's so much more fulfilling to DO something to help create a better existence than to just sit around and be overwhelmed by all the negative information from the media and from your surroundings.
But maybe most important of all, as a Traveling Volunteer, you are part of creating solutions, rather than creating problems!
Visit Books we recommend for some reading suggestions.