Network Traveling
Where do you want to go?

Who do you know?
Network Traveling is a method of travel based on your own personal contacts or contacts through an organization.
It's a social way of traveling that allows you to meet, connect and interact with many different people.
You stay for a very low cost, often even for free, and you get the opportunity to experience the world as a local rather than just a tourist.
Personal Network Traveling
Our daughters are passionate letter writers and have pen pals all over the world. A few years ago, they really wanted to meet with their two oldest letter-writing friends, who live in the USA and Canada.
We contacted their families and they invited our entire family to come and stay with them! It was a great experience for the girls to meet their pen pals and we all had some fantastic weeks together with these people we'd heard so much about over the years.
Having traveled so far, we wanted to take the opportunity to see a bit more of this part of the world. Through our pen pal families, we were then introduced to their friends, who in turn introduced us to their friends and they all invited us to come and stay. We even stayed with one family for three weeks!
We traveled like this, staying with different families, for three months, all the way from Michigan to Seattle and up to British Columbia, Canada.
We got so many invitations we could easily have continued to travel for another three months (or more) if we'd had the time!
We all have plenty of connections, but usually don't think this can be part of making a travel dream come true. Think for a moment about your own networks. You may find them through;
• Your immediate and extended family
• Your interests and hobbies
• Your work
• Your friends and extended friends
• Your children's school and their friends
• Your church, your neighbors, your old classmates…
There's an abundance of ways to create your dream trip. Just think about your interests and the people you know. From there you can make all kinds of connections to travel around the world!
Organized Network Traveling
This is also about traveling through the help of contacts but by joining an organization which provides the network. You can then travel around and use the contacts within the organization to connect with people and stay for free. Some of the most well known organizations are:
• WWOOF (World Wide Opportunities on Organic Farms)
• Women Welcome Women World Wide
The number of Hospitality Travel Organizations are increasing all the time. More people are realizing how valuable it can be, not only to stay for free, but also to connect with people from other parts of the world (or even from the same part) both as travelers and as hosts.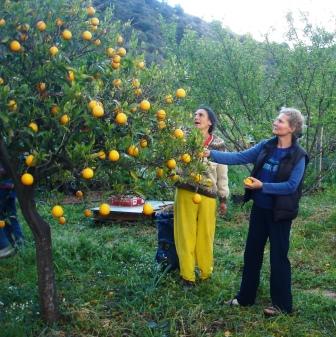 There are many different ways you can help out in exchange for food and a place to stay. Garden work at Los Arenalejos, Southern Spain
Be a Visitor or a Host
A couple of years ago, we visited a family in a very rural part of New Zealand (you know it is rural when the post boat only comes once a week!). They live and work at this extremely beautiful place, with dolphins swimming in the bay, farming clams, breeding sheep and cows and renting out cottages.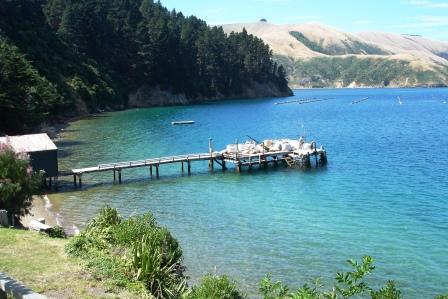 Visiting the Shands family in NZ is a very special experience.
It first seemed very isolated to us, but we soon realized they lived a much more social and international life than most people. They were hosts for some different Hospitality Travel Organizations and had visitors from all (yes, ALL) over the world.
People came and stayed for different lengths of time and they received food and shelter in exchange for helping with whatever needed to be done or stayed as a paying guest.
As you see, you can use a Hospitality Travel Organization both as a traveler and as a host. You don't always have to go out into the world, you can also let the world come to you! A possibility for you to already get into the traveling mood can be to sign up as a host yourself. If you do, you will be meeting with travelers who can share their experience and at the same time you will be expanding your own network.
Again, think for a moment about your own social connections and remember it's actually only your thinking (or not thinking) that set's the limit to what's possible to do and how it's possible to travel!