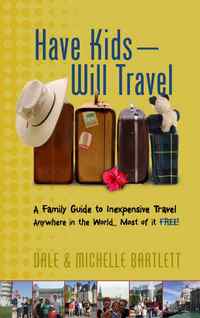 So many people we meet want to travel the world with their family and so many just don't take this desire seriously because they think it would be too costly. A few years ago, we came across this very interesting book called "Have Kids – Will Travel". It's written by Dale and Michelle Bartlett, the parents in a family of six who have traveled the world extensively for many years.
How can a family with four children just travel around in the world several times a year, staying in hotels, renting cars, visiting interesting sites and just have a great time without being multi millionaires, you may wonder.
Well, I guess you could say that they have used a variety of very simple and conscious ways of traveling. They have thoroughly researched ways to travel inexpensively and have then implemented these ideas and refined them through their own traveling life.
The family has (so far) mainly focused on shorter trips like days and weeks. Even so many of the ways they have used to lower, and even eliminate, travel costs are of course valid even for extended traveling.
The Bartlett's have many examples of extremely inexpensive trips they have made. A two and a half week trip to the East coast of the USA (from Utah) for example cost as little as 700 dollar for the entire family! That included airfare, hotels, car rental, food and more!
They have visited Europe several times. Some of these trips have been with both free airfare as well as free accommodation, paying just for their food.
As Dale Bartlett says:
"I believe that with the proper planning and knowing the right travel secrets, any family could travel anywhere in the world for less than it costs to go camping, definitely much less than going to Disneyworld."
If you're interested in knowing more about them and to learn about how you too can travel inexpensively, visit their website: www.havekids-willtravel.com where their book also is available. They do ship worldwide.