"We'd love if you would like to enter our competition. We want to nominate you as one of the most adventurous families!"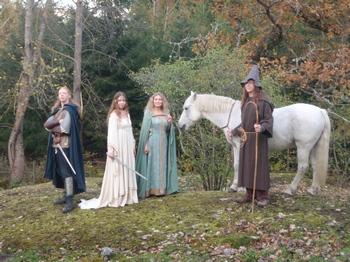 That's the email we got the other day from this travel magazine, one of the biggest here in Sweden. It's actually called "Adventurous Families" and that's what they write about, families who take a break from their everyday struggles and do something else together. Often this "something else" includes travel but it doesn't have to.
Of course you can be adventurous anywhere. And what is "adventurous" is of course relative. For some, like the "Smallbigexpedition" that we recently wrote about here, the adventure can be to travel through Europe and Africa with a Land Rover. For others, it can involve things like climbing Kilimanjaro or swimming with white sharks. For yet others, the adventure can be to just leave your familiar surrounding and all the people you know and experience a totally new place for a while. For some, the real adventure can be to just be together, as a family, 24/7, something you may never have experienced and have no idea how it will work out.
For me, I think adventurous is when you challenge yourself and take a step, or several, outside of your comfort zone. And since we all have our own (perceived) limits around ourselves, this is very personal. What's adventurous for some, is just a piece of cake for others and vice versa.
So, regarding the competition, of course we accepted! They then wanted to come and do an "adventurous photo shoot" and, since we had mentioned our "Lord of the Rings" tour around New Zealand, they suggested that theme for the photos.
So, the other day they came, with props and everything (swords, nice dresses…) from the Swedish television. They even had us asking around our neighbors for a white horse that we could use. And we found one! Here are some photos from the shoot, our own of course, the professional ones will be in the magazine. Viktoria, our oldest daughter is unfortunately missing though. She's in England at the moment, doing her own adventurous things.
So, fingers crossed for winning (it's a nice big travel check). And if we don't, it's still a great opportunity to spread the word about our new book (soon to be printed)!