As we mentioned in our previous post on this topic, we have split the costs up into different categories to look at them separately. The first one we'd want to look at is the actual travel cost. The traveling can of course be made in many different ways. In another earlier post, we mentioned some of the more common ones, like flying, driving, sailing, cycling and even walking. Yes, we've been reminded that we've left some out like motor cycling and hitchhiking. We are sure there are even more…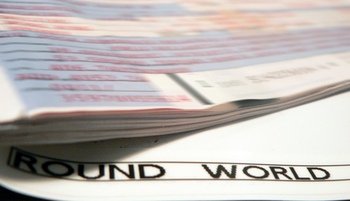 Anyway, some of these ways may not be so suitable for an around the world journey even if there are examples of people using them. Just a quick search on the internet and we found: an English man who drove around the world recently, a Korean woman who walked around the world for 6 years. And then of course, on motorcycle we got the famous actor Ewan McGregor who rode his motorbike the "Long Way Round" with his friend Charley Boorman.
For, what we hope, understandable reasons, we can't possible cover all the different ways of transportation at this point. We may get back with an in depth look at the man who drove and the woman who walked, but for now we will focus on the most common way, flying.
Make a search on the Internet and you will find endless of hits for round the world tickets. But basically they all come down to the three major airline alliances Star Alliance, One World and Sky Team.
One World we think has the coolest booking engine, where you can go all the way to actually buying the ticket. This is great when you are looking for what the actual prices may be. Many of the other booking services have extra charges which you don't know about until you've contacted them for the exact price. To do a test, we did some quick searchers for a RTW ticket including stops in Stockholm-Los Angeles-Honolulu-Sydney- Mumbai-Stockholm over a 6 month period. The total price on offer for that was US$ 3 150.
Another booking engine we tried offered, for a similar journey, a price range from US$2 350 – 3 150. But then, to get a more accurate price you had to contact them.
Anyway, this is a start. Our guess is that the lady taking herself around by walking did not spend that amount of money on shoes. But then, it took her longer to complete the journey. Instead of paying with cash she paid with her time and effort and got a totally different experience.
So what does this amount represent?
Well, to put it into some perspective, we checked what someone commuting in the London area had to pay on a monthly basis for a travel pass. If you live, for instance, within a 20-30 minute train ride of the very center of London, you would have to pay roughly US$ 200-300 a month. That would make US$ 1 200-1 800 for a six months period. And if you have the inspiration to go traveling for a year the amount of money you would save would be US$ 2 400-3 600. In other words your trip around the world would pay itself if you didn't have to go to work!
We know there are probably a lot of objections to this comparison. But why? If you could make money by not commuting to an office in central London the money you were saving could actually go to a ticket that would take you all the way around the world.
The only trick now is to figure out how to make that money in some other way…
We are willing to admit that we are not RTW ticket booking experts and would therefore like to point you to someone who is considered the guru in this field – Edward Hasbrouck. Also check out his book The Practical Nomad: How to Travel Around the World
That's it for now. Stay tuned and we will soon take a look at some of the other costs…