Since you're reading this, I assume you (too) are a person who dreams about doing some long term travel, or maybe any travel. It's not always easy to follow your dream though. A voice can sometimes pop up in your head and say things like: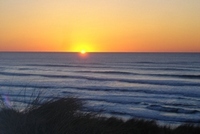 • "Who am I to do what I want (instead of what I really "should")?" Or
• "Who am I to fulfill such an egoistic unrealistic idea?"
Well, who are you not to?
To realize your dream is not egoistic.
To realize your dream of traveling, seeing and experiencing the world, spending time with people- new and old friends (or with yourself) and enjoying life – in other words; of living, is not a selfish thing. It's a way of giving of yourself to the world.
If you live your dream, your passion, and feel happy, creative, present – alive – people will be positively affected by you. People will see that you dare, that you do, that you let go (or that you take charge), that you LIVE and hopefully, they will also start to make reality of their dreams.
Which world is the most fun: one where we focus on all our musts and shoulds' and keep within our limits, or one where we follow our inner voice and live our dreams?

Which life creates most energy, creativity, and love to ourselves and to others: a life where we force ourselves to do things and to be in ways we don't always want to or feel is right and or one where we don't use all our talents and abilities? Or one where we allow ourselves to acknowledge our dreams, like our dreams of long term travel and of going out into the world. A life where we learn more about the world, meet more of it's people, experience different cultures, have more time to meet ourselves and more time to just be?
Listening to your dreams is not about being egoistic, nor unrealistic and it's not a small thing
Listening to your dreams and making them a reality is the most important thing you can do!