My family loves books. And I mean truly and completely! I mean, we love books so much that spending time in a bookstore is like a favorite pastime for us. One hour, 2 hours, 3 hours…the whole day! Whenever we go someplace new, the first place we visit is a bookstore. Well, in a few cases we've been to the library first, but that only happens rarely.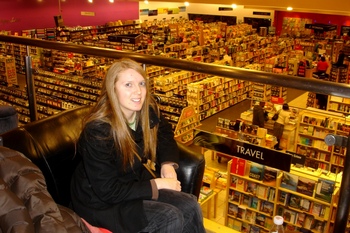 I remember the first time we went to Los Angeles, USA. Well, it was the first time for me, but my parents had been there previously.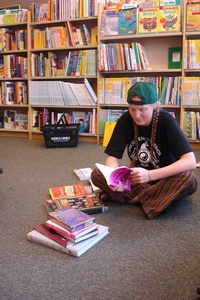 Because of the time difference we fell asleep as soon as we arrived and the next morning we were up bright and early. So early that we had time to take a long walk through the neighbourhood around the hotel before the car rental even opened. When they finally did open we were the first costumers of the day. The papers were signed and we had the keys and then the man serving us asked if there was any particular place we wanted to have help with the directions for.
"Yes please, how do you get to the nearest Borders or Barnes & Noble??" It wasn't the question he was expecting from a family with three kids (teenagers) on their first day ever in Hollywood… But after consulting his boss he could explain the way and very thankful for his help we left directly!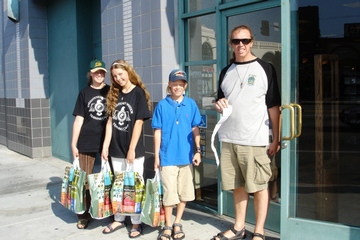 We emerged out into the Californian sun some time later after spending some blissful hours in the wonderful bookstore. Later that day we did have time to visit the Walk of Fame too…
This is common when we're travelling. Michigan, London, New Zealand – same thing happened!
When we stayed in San Francisco for a few days we were tourists during the days, but the evenings and nights were spent in the Borders that, to our great delight, was situated just around the corner from our hotel and had some very agreeable opening hours (open till 1AM – unheard of in Europe!).
In Sydney and Brisbane, Australia, we were overjoyed to find Dymocks. But I must admit it was a disappointment that they were so very strict about their early closing times… 6PM… Ugh…
In India we bought books on the street. The prices were amazing, it was only the thought of how much luggage we had that stopped us from buying more books than we did… Still, coupled with the new shoes, dresses and other beautiful things we bought for next to nothing in India we actually had to buy an extra suitcase to take it all home…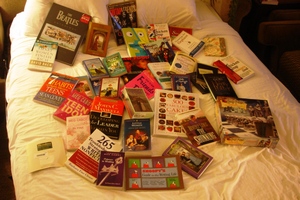 That wasn't the only time we bought more books than we had room for. When we were in the US for a fortnight 4 years ago we bought about 40-50 books and the extra suitcase my dad had to buy this time was filled with books only! I remember my dad was a bit unhappy about having to buy an extra bag…
With this love for books and bookstores, you can imagine the frustration when in a country like Germany for example. The bookstores are big and lovely, but I can't read the frickin' books! Hence, when we lived in Spain we became very frequent visitors to the tiny but adorable English bookshop in Fuengirola!
Sadly, bookstores in Sweden are hardly worthy of the name. They're small, have very few books and are filled with pens and notebooks instead… Not that I have anything against pens, but it's not the same thing as a book!
After spending a couple of months in Sweden I start feeling starved of good books. I miss the smell of new books. The first thing I do when I enter a bookstore is take a deep breath! Nothing compares to that smell and the feeling of finally arriving "home" that it gives me!
I just can't stand it any longer, so out of desperation I order a bunch of books from Amazon just to keep me going until next time I go to Waterstones in England or Chapters in Canada or some equally heavenly place. Granted, receiving a package of long awaited books from Amazon has its thrills, but nothing can come close to a REAL bookstore!