Ready to Discover More about Us?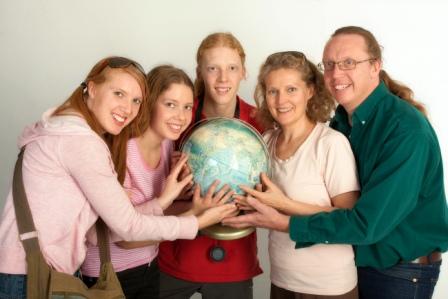 Here we are!
Viktoria, Aurora, Aron, Maria & Magnus
We are the one's who believe that you can quit your job and travel the world – that Extended World Travel is totally a possibility for you too!
We are a Swedish family of 5 who, thanks to some decisions we've made and the traveling we've done are very much living our dream life. We can work and study from wherever we are. We experience loads of interesting and exciting things together. We have friends all over the world and we very much feel and see ourselves not only as Swedes, but as World Citizens.
"But don't limit yourself by thinking that you have to have a family like ours to do some long term travel. On our journeys, we have met people from all walks of life and in all kinds of circumstances, traveling around the globe."
We have met single parents traveling with their children, as well as families with 5 children. We've connected with people who travel even though they are in a wheelchair or over the age of 90. We've connected directly with people in all kinds of circumstances who travel extensively and want you to know that it is a possibility for you too, no matter where you are in life.
We do not claim that the way we have traveled is the only way for others to travel. A claim like that would be a bit arrogant, (being Swedes and all…). And remember, that the knowledge we are sharing on this website is based not only on our own experience, but also on the experiences of hundreds of other passionate travelers.
"I haven't been everywhere, but it's on my list."
Susan Sontag
As for our own World Travel journey, we (the parents) started our traveling adventures very early in our lives. Our parents gave us this gift by taking us to beautiful and unusual places, long before world travel became main stream, and we've never stopped.
Traveling is natural for us; it's simply how we think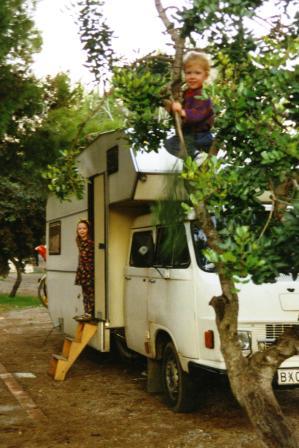 We went on our first extended journey as a family in the mid 90's. It was a 5 month trip through Europe in a campervan. It is one of the most amazing experiences we've had and it impacted us all and changed our lives forever. It made us realize what's really important to us. We became more harmonious and happy and it also helped us to get out of the 9 to 5 (where we haven't been back). So our first long term journey got us hooked, and there really was no going back.
Since then, we as a family have literary spent years traveling and living abroad, experiencing many different parts of our wonderful world, connecting with all kinds of fantastic people.
Our family's first long term trip -
the kids were younger then…
One of the incredible things we've discovered is, that when you travel for extended periods of time, you experience all kinds of mental clarity. Simply by getting away from your everyday life in the Rat Race, your views on life naturally begin to change.
You get new perspective on what's really important to you
The experience from long term travel is so powerful and one of the main reasons why we wanted to make this website. To show you that this opportunity is available for you too! We wish that more people would take this opportunity to feel more alive and discover their ideal life.
"We truly believe from the depth of our hearts that Extended World Traveling is GOOD for you! Not only good for you, but it will also profoundly benefit the people around you and as an extension, the whole world!"
We are committed to helping you take your travel dreams seriously and really go for it. And we're looking forward to one day meet you in person somewhere in the world.
Happy Travels!
Maria, Magnus, Viktoria, Aurora & Aron